Four Short Reviews for Four Irish Short Stories.
In preparation for my writers' retreat in Ireland in September (with Claire Keegan – author of "Foster" and "Small Things Like These" which were just amazing), participants were requested to read the novel "The Barracks" by John McGahern, as well as the following short stories:
"The Tent" by Liam O'Flaherty
"The Demon Lover" by Elizabeth Bowen
"The Vocation" by Mary Lavin
"Going Home" by William Trevor
I've never read any of these authors, so as soon as I could, I tucked into doing my homework. So, without any further ado, here's what I thought of them …

"The Tent" by Liam O'Flaherty. This story is the shortest of those in the collection, and the first one I read. I'm not sure when it was published, but most places say 1926. The story is about a man named Carney who seeks shelter from a sudden storm in a tent, occupied by a "tinker" and his two wives! (Yes, two.) This is a highly atmospheric story, and a fairly ominous one at that. Obviously, the storm sets the scene, and while the "tinker" is fairly suspicious from the start, we soon come to see that his wives are very different from him as they are from each other. This isn't quite as simple as one being dark and one being blond, but that's part of it. It is probably a bit racist of me to think "Roma" when I came upon this unusual family, but that's what came to mind. I think the point to this story is that "any port in a storm" might not be such a great motto to live by. However, I'm not really sure I understood more than this, and found the ending a bit… unsatisfactory.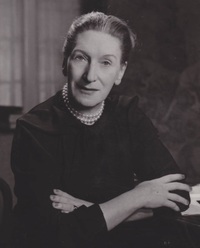 "The Demon Lover" by Elizabeth Bowen. I was lucky enough to find this story online, which was posted by Biblioklept back in 2018. This is, as the title suggests, a bit of a horror story. It is about Mrs. Drover who goes to finally close up her abandoned London home, and finds a note for her. Since she doesn't live there, and the caretaker wouldn't know when she'd visit, finding a note from (we assume) this lover, dated for that day, that says it is their anniversary, is pretty spooky. All the more so because the note says she should expect this person "at the hour arranged," and apparently, 25 years had passed since she last saw him. The premise here is that Mrs. Drover then tries to figure out how she will avoid this confrontation/reunion. I really liked this one, the way Bowen gets into this woman's head and fears – very evocative throughout. It also reminded me of "Appointment in Samarra," which is an ancient Mesopotamian tale.
"The Vocation" by Mary Lavin. Since I couldn't find just this one story online, I bought a second-hand copy of her collected stories, that had this included. Now, I don't know if this story is representative of her other stories, but after reading this one, I'm glad I have some more. This work is about a young girl from a relatively poor family, who decides that instead of trying to find a husband, or start on a path towards some career (like on stage or working in a pub), that she'll see if she can become a nun! I didn't know that convents sometimes request that a woman wanting to join must have a type of dowry to get accepted. This is the type of money, her family just doesn't have. However, she does find one order that doesn't ask for a dowry, because the work would be with "savages" in Africa! As serious as all this sounds, it really is quite funny, and I found it just delightful!
"Going Home" by William Trevor. This was the longest of the stories assigned, but it isn't terribly long. The story is about a young boy, called Carruthers, on the homeward-bound train with Miss Fanshawe, one of the staff members of his boarding school. Carruthers thinks himself an adult, and acts very snobbish and insulting. His behavior in the dining car makes Miss Fanshawe very angry with him, and rightfully so. In the second half of the story, when they've gone back to their seats, we find out exactly why Miss Fanshawe is so upset, and why Carruthers acts so rudely. I did enjoy this story, and I enjoyed the writing as well. Trevor knows how to build his characters quickly, that's for certain. Plus, although we don't like Carruthers to begin with, Trevor is able to get us to understand him by the end of the story, making this an all-round artful story. Now, I should mention that fellow bloggers Cathy @ 746 Books, and Kim at Reading Matters adore William Trevor and they have been enticing me with their 2023 Year with William Trevor challenge! So far, this is my first time reading any of his works (I did want to get some of his novels before Book Depository closed down, but I just didn't have the funds). Again, I couldn't find just this story online, so I bought a used copy of his collected stories where this one appears. When I ordered it, I didn't realize I'd be getting a brick of 1261 pages, with this one being less than 20 of them (the table of contents fills eight pages)! That said, as long as I've already got this collection, I'm sure this won't be the last of his stories I'll read.
These stories qualify for the following reading challenges: Well… only one of these qualifies and that being the Year with William Trevor challenge.