Why I can't write a Book Review for "Rhapsody" by Mitchell James Kaplan.
Summary: "When Katharine "Kay" Swift—the restless but loyal society wife of wealthy banker James Warburg and a serious pianist who longs for recognition—attends a performance of Rhapsody in Blue by a brilliant, elusive young musical genius named George Gershwin, her world is turned upside down. Transfixed, she's helpless to resist the magnetic pull of George's talent, charm, and swagger. Their ten-year love affair, complicated by her conflicted loyalty to her husband and the twists and turns of her own musical career, ends only with George's death from a brain tumor at the age of thirty-eight. Set in Jazz Age New York City, this stunning work of fiction explores the timeless bond between two brilliant, strong-willed artists. George Gershwin left behind not just a body of work unmatched in popular musical history, but a woman who loved him with all her heart, knowing all the while that he belonged not to her, but to the world."
Age: Adult; Genres: Literary, Fiction; Settings: Era/s: Historical; Location/s: USA – New York; Other Categories: Novel, Biographical, Romance, Music.
Every so often an author or publisher will send me a print copy of a book for me to read and review. This is one of these books, and I was really interested in reading it. However, I'm afraid it didn't work for me, even with a recommendation from Kate Quinn, and here's why.
This book started out fine, and I found it was nicely written, but after getting through nearly half of the book, I realized that I had to stop. You see, I just didn't care enough about Kay or her husband or George Gershwin (and I adore his music, which is why I really wanted to read this book) to find out what happened with them. The book started out with a good cliffhanger in the prologue. But then… came all the name dropping and details upon details that were for me, totally extraneous. I just felt that Kay and George got lost in the shuffle with all the other stuff.
Also, remember that I visualize the action in my head when I read, but if I can't get a clear picture of what's going on, then something must be amiss. For example, at one point Kay is in a towel after a bath and then in the next sentence she's out the door! I do hope she got dressed! Another example: Warberg buys Kaye a country home, and they end up staying over the same night they buy it. From the description the house wasn't used in years, but somehow there's a bed with clean sheets and a stocked kitchen for breakfast the next morning? Huh?
Mind you, some of the passages where Kaplan describes playing the piano or listening to music are really very good, but we still got too little of the way the people felt when they played the music or heard it, and too much about the techniques.
Obviously Kaplan did a huge amount of research, and this shows. But the magic of good historical fiction is knowing when to use that information and when to leave it aside. The magic of good biographical, historical fiction is knowing how to show the readers the emotions and motivations of these people; why they did what they did. It is not to just tell us who designed their clothes, who was at their parties, and where they ate lunch. So while I was initially going to just set this one aside, I eventually decided that I couldn't read more, but I did try – I really did. Because, as I said, this was a real shame since a novel about Gershwin truly has the potential to be a 5/5 star book.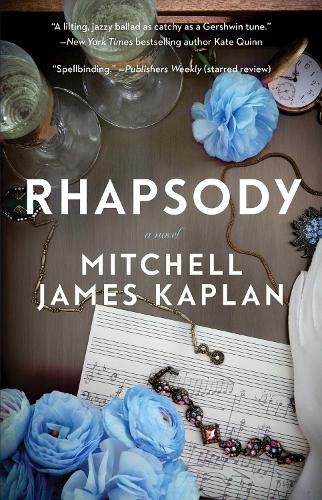 My apologies to the author and the publishers for my inability to finish reading this novel, but thanks anyway for the ARC. If I haven't convinced you not to read this novel, this book is available (via the following affiliate links) from Amazon, Blackwell's, Book Depository UK, Foyles, Waterstones, Wordery UK, Wordery US, Kobo US (eBooks and audiobooks), Booksamillion.com, iTunes (iBooks and audiobooks), new or used from Alibris, used from Better World Books (promoting libraries and world literary), as well as from as well as from Bookshop.org and UK.Bookshop (to support independent bookshops, especially during the COVID-19 pandemic).