Top Ten Tuesday was created by The Broke and the Bookish in June of 2010 and was moved to That Artsy Reader Girl in January of 2018. It was born of a love of lists, a love of books, and a desire to bring bookish friends together.
The rules are simple:
Each Tuesday, Jana assigns a new topic. Create your own Top Ten list that fits that topic – putting your unique spin on it if you want.
Everyone is welcome to join but please link back to The Artsy Reader Girl in your own Top Ten Tuesday post.
Add your name to the Linky widget on that day's post so that everyone can check out other bloggers' lists.
Or if you don't have a blog, just post your answers as a comment on her weekly post.
This week – April 18 – the topic is: Non-Book Freebie.
 So, without any further ado…
According to The Artsy Reader Girl, this week our topic is: "Non-book Freebie (choose your own topic that's not related to books! This could be hobbies, TV shows/movies, bands/singers, food items/recipes, top ten things about you, your top ten favorite things, places you've visited, favorite fashion designers, etc. Take this time to let your readers get to know you a little!)"
I always love a freebie week! Now, do I prefer a bookish one, so I thought I'd let you know about 10 TV series that I watch now and/or used to watch, but would never read them if they were books! You can't get more non-bookish than that, can you? (Sorry, that means I can't include "Daisy Jones & the Six" on this list, because I not only loved the TV series, but I devoured the book!)
10 – Dark Shadows (the daytime soap opera from the 60s and 70s, not the disgusting Depp movie) – I truly dislike the horror genre, and I don't believe in vampires or witches. I refuse to read books about them, and for the most part, I don't watch TV shows with them. Admittedly, I did watch Charmed, but at a certain point, it annoyed me, despite their very welcome addition of Kaley Cuoco (see below) to their cast. But as a kid, I would race home to watch Barnabas Collins on TV, and I had a crush on the actor who played him (Jonathan Frid). But pick up a horror book? No thank you (and thankfully, I never had to read any for school).
9 – Bridgerton – yeah, that's another two genres I don't go in for – romance and (lets be frank, it really is) erotica. The former ticks me off (oh, swoon, oh, my – BLECH), and the latter turns me off. Regarding romance, especially historical romance, with all the bodice ripping and women who have nothing in their lives besides trying to find a man, no thanks. Yes, I've read and loved all the Jane Austen books (and watched many a film version of them all), but remember, they're vintage contemporary novels, written when that was what a woman's life was generally all about (plus no garments are harmed in the making of those). As for literary… er… love making… I can handle a kiss and a suggestion of what happens between the sheets, but the graphic descriptions – not for me. But this TV series, well… yeah, I'm enjoying it and I hope the next season will be available soon!
8 – The many Star Trek TV series – I'm one of those people who, as a young girl back in the 60s, actually saw the original TV series with William Shatner, Leonard Nemoy and the like. Although I've read some amount of science fiction throughout my life, mostly it was because it was assigned to me for some study course or another. As a rule, I do not pick up science fiction books these days for my reading pleasure. However, I might be willing to read an old classic someday (one that's still on my shelf) if – for example – it gets picked for me by one of the upcoming Classics Club Spins.

7 – Doctor Who – this one also takes me back to my childhood, it does. When I was a kid, this series was on PBS back in Chicago (thanks, Channel 11), and my father adored it. Because he loved it so much, he made all of us watch it with him. Well, I got hooked. This very long-running series is Science Fiction and Fantasy combined, with a very good douse of humor. Sadly, it went on an extended hiatus, but we were all re-introduced to Doctor Who in 2005 with its reboot… or, maybe we should call it just a regeneration of the series, because that's what happens to the Doctor when the main character changes from one actor to another – he (or she) regenerates. Admittedly, I haven't loved ALL of the doctors, but I've seen many of the series.

6 – Orange is the New Black – this TV series actually started out as a book, a memoir by Piper Eressea Kerman (called Piper Chapman in the series), about her time in prison. Sorry, I don't read memoirs. I mean, maybe if the person is someone I'm interested in (such as Maggie O'Farrell and Katharine Hepburn), but if I had seen her book on a shop shelf, I would have passed it over without a qualm. However, I was just blown away by the series. It wasn't so much the stories that got me hooked, but the huge slew of (then) relatively (and totally) unknown, but totally amazing actors that fans of the now finished series are seeing all over the place. Case in point…
5 – Russian Doll – hello? Natasha Lyonne, people! I loved her in Orange is the New Black and I was thrilled to see this come out. IMDb says "A cynical young woman in New York City keeps dying and returning to the party that's being thrown in her honor on that same evening. She tries to find a way out of this strange time loop." So, we get time travel and a type of "groundhog day" here, both of which I would totally avoid in any novel (okay, so I did read "The Time Traveler's Wife," and I did like it, but at least it tried to explain the time travel through genetics and not mysterious magic).
4 – Poker Face – ditto #5 here with Natasha. I binged this one as soon as it came on TV, and I see it could get a second season, so I'm thrilled. The story here is that Natasha's character, Charlie Cale, has an inbred "BS" detector. That made her wonderful at playing poker, but it also got her into trouble in Vegas. So now she's on the run, and she falls into solving crimes (mostly murders) at the places she stops along her way. While I like a cozy mystery, these stories aren't
3 – The Flight Attendant – this one is about as strange as it gets, and all the funky, weird stuff that goes on here borders on fantasy, which you all know is NOT my thing at all. If this was in a book, really couldn't handle the constant flashbacks that are supposed to give her insights into getting herself out of trouble. But Kaley Cuoco (The Big Bang Theory) in the lead part, and the rest of the cast (like Zosia Mamet and Rosie Perez) are wonderful!

2 – Killing Eve – although the last (4th) season of this aired last year, I'm a huge fan of Sandra Oh, and I found that despite all the blood, guts and gore here (which I'd never want to read in a book) was pretty fun when you have such talented actors like Sandra, and Jodie Comer.
1 – Ted Lasso! OMG, I just adore this show, and I totally hate sports. In fact, I wouldn't willingly take up a novel about sports (well, Backman's "Beartown" series is the exception that breaks that rule). But I fell in love with this from the first episode, and I've been stalking it ever since. That's because, if you think about it, it isn't really about sports at all (and neither are the "Beartown" books)!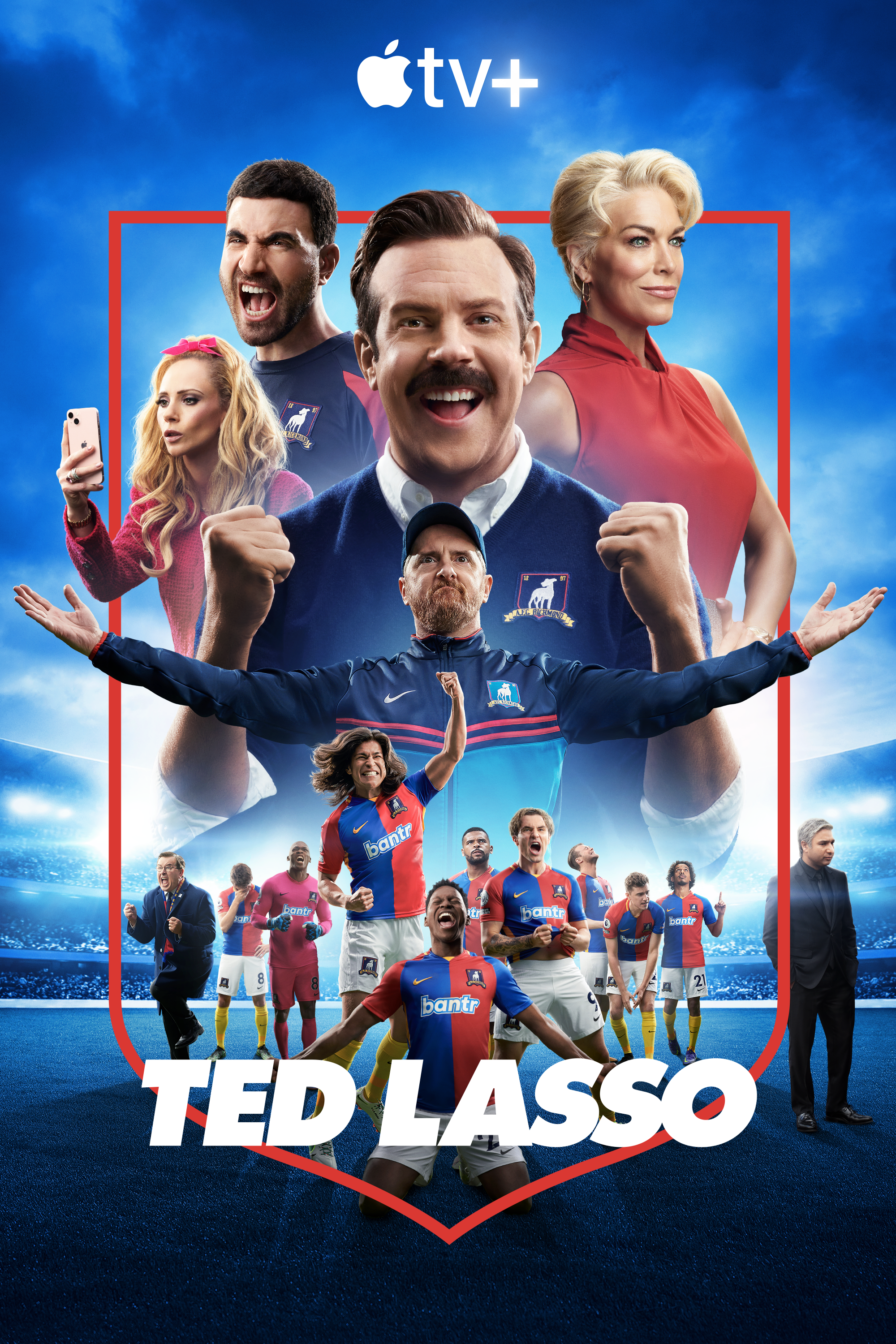 What about you? What is your topic for your top ten non-book favorites?