Book Review of The Little Breton Bistro by Nina George.
When 60-year-old Marianne Messmann is visiting Paris on vacation with her husband, she decides to commit suicide by jumping off the Pont Neuf bridge. Her failed attempt leads her to let her husband go back to Germany on his own and search out the Breton town of Kerdruc. Why Kerdruc? Only because it looked so lovely on a painted tile she found while in the hospital, so why not. What she finds there is far more than she bargained for.
I truly appreciate a coming-of-age story that involves someone my age, rather than a young person. These types of stories remind us that finding ourselves is not related to age or chronology, and that no matter how old or young we are, there is always something new we can learn about ourselves. This is the biggest reason I wanted to read this book, but also because I found George's previous novel, The Little Paris Bookshop, to be so charming and fun. That's was a good enough reason to pick this novel up, if you ask me, but I'm afraid that although I loved the premise, and enjoy George's writing, I was a touch disappointed with this book, and liked it less than I did her previous novel.
In a nutshell, I think that George's mistake here was taking on too many characters this time around. In her previous book the cast was mostly limited to those people on the longboat book shop, with the addition of minor characters they met along the way. Here George seems to include everyone in this town, and since there's not much traveling involved, wherever Marianne went, there was one of them. In her defense, most small towns often do have all their intrigues bubbling close to the surface of their daily lives, if not on their sleeves in full view, simply because everyone knows everyone else. So, it makes sense that George would allow Marianne to somehow get involved in them all. The problem, however, was that with all these things going on around Marianne, despite her involvement in them, pulled the focus away from her story, which it seems to me should have been front and center.
While this isn't a small drawback, I do have to say that overall, this is an extremely pleasant book to read. We grow to love Marianne, get angry with her when she seems to make mistakes and applaud her when she puts herself on the right path. Furthermore, when her husband comes to find her, George cleverly makes us see him, or at least a part of him, in a light that Marianne has denied or at the very least, ignored. Then, when the parts of his personality reappear, which were the very things that kept Marianne away, we realize that everything that made Marianne want to jump off a bridge to a watery death made perfect sense. This is what makes this a life affirming story, and we can admire the type of soul searching required to walk away from a bad situation, particularly at an advanced age like Marianne's.
It seems to me that the thing that will make this book a hit (and maybe even as popular as George's first book), is the softly gentle style that George gives us here, and which has been lovingly translated (again) by Simon Pare. As you read this book, you might see how George likes to caress her readers with her literary style, so that even if some situation or other might feel somewhat harsh, the way it is presented through George's supple use of words, these harder parts of the story feel almost cushioned. Of course, George's love for France in general is blatantly obvious in both these books, and George prefers to take us away into parts of the country that are typically very different from the bustling Paris. This will ultimately make you want to pack up your own bags and use these books as your itinerary to discover the nooks and crannies that George seems to adore. Although I didn't find this a perfect book, and wished it was more focused, I did like it a great deal and it was fun to read. Therefore, I think it deserves a solid three and a half stars out of five, which still means I can recommend it.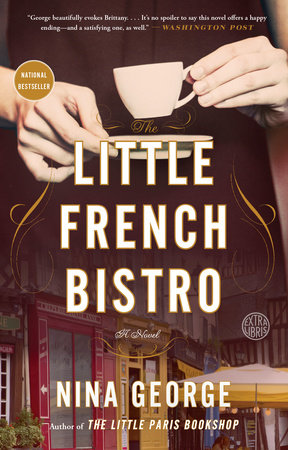 Abacus Press released "The Little Breton Bistro" (also known as "The Little French Bistro") by Nina George in 2017. This book is available (via these affiliate links) from Amazon, Kobo Books, Kobo audio books, eBooks, iTunes (iBook or audiobook), The Book Depository (free worldwide delivery), new or used from Alibris or Better World Books (where your purchase supports world literacy) as well as from an
IndieBound store near you.